Gli Iconoclast sono un duo formato da Julie Joslyn (sax alto, violino, voce e strumenti elettronici) e Leo Ciesa (batteria, percussioni, tastiere e voce).
I due hanno composto e suonato insieme a partire dal 1987, sviluppando un'opus musicale eclettico e spiazzante: le loro performance sono fisicamente intense e il loro impatto lascia pensare a una band di molti elementi (e pure piuttosto… 'agitati'!). Nel loro sound l'elettronica si mescola naturalmente con le sonorità degli strumenti acustici, tanto quanto la scrittura con l'improvvisazione, in una miscela aspra, spigolosa… unica.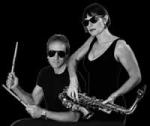 Gli Iconoclast suonano regolarmente a New York City (dove entrambi vivono) e hanno effettuato numerose tournée attraverso gli Stati Uniti, il Canada, l'Europa, trovando fra l'altro ascolto in Russia (dove l'etichetta Record One ha pubblicato nel 2005 un'antologia dei loro lavori intitolata "In The Vodka Garden") e in numerosi festival di musica d'avanguardia dell'Europa dell'Est, collaborando inoltre con artisti locali.

Habituée dei newyorkesi Knitting Factory e CBGB's, templi storici dell'avanguardia tra punk, jazz e-chi-più-ne-ha-più-ne-metta, in Italia hanno suonato più volte, dal 1994 al 2005: un paio di date al Tunnel di Milano (1996 e '97) sono state organizzate da Mario di posthuman.it, il quale in passato ha anche recensito i loro dischi per Rockstar, Musica di Repubblica e Ultrasuoni del Manifesto.

La struttura "aperta", spesso astratta delle loro composizioni ben s'adatta ad accompagnare immagini e video: per questo sono state impiegate nel documentario "Savage Acts" e nella serie tv "Welcome to Nocturnia", prima di essere scelti da Mario e Walter per sonorizzare le visioni postumane di "Con gli occhi di domani".

Qui vedete qualche immagine e le cover dei loro ultimi due cd – "The Dreadful Dance" del 2005 e "The Body Never Lies" del 2006 – il resto lo trovate su:

A noi, loro amici e fan di vecchia data, non resta che consigliarvi di andarli a scoprire negli imminenti concerti del 2007: venerdì 9 Marzo al Brixton di Alassio, sabato 10 Marzo al Peacemaker di Imola.

Nota
Li amerete se amate…
Frank Zappa, Lounge Lizards/John Lurie, Naked City/Masada/John Zorn